Below are updates and links to further information in reference to closures:
Arvada Center: Effective today, the Arvada Center facility is closed to the public until further notice. Find specific information on postponed or cancelled performances, classes, camps and events here
Apex Park & Recreation District: Apex will be closing all facilities (including indoor fields, Indian Tree Gold Club, and all programs and classes) effective Saturday March 14, 2020 through Sunday, April 5. The Apex Center pools are also closed.
Arvada Government: Effective March 16th, all City facilities open to the public are closed.
Arvada Police: Are responding to calls for service but encourage anyone to who needs to report a crime that does not need an immediate response, to report crimes online here. For non-emergencies, that you cannot report online, call 720-898-6900.
Comcast: Free two months of Internet Essentials - Click Here
Jeffco Public Schools: Begining on Monday, March 16th - all school buildings will be closed for in-person classes. JPS reminds students and their families about the Grab & Go Meals - information below - This was upsated on March 18th. For complete details and updates about closures at Jeffco Public Schools, click here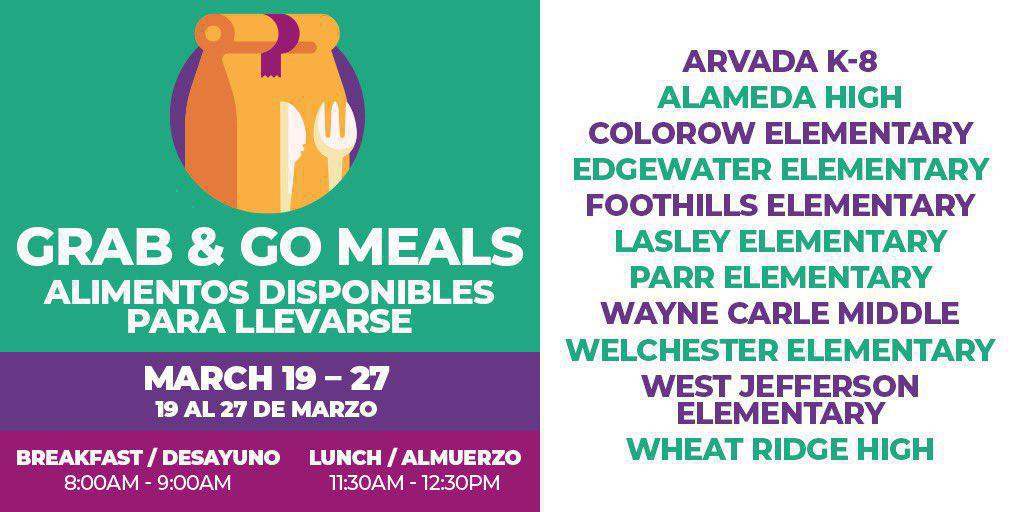 King Soopers: All stores are updating their hours to 7:00AM to 8:00PM. More details can be found here.
Restaurants: We are updating a running list of Arvada restaurants that are still open for delivery and/or takeout during this time. Click here to view our list.