Vehicle trespass in Arvada, captured by a Ring camera on Sunday morning
If you are on Ring, Next Door or even a Facebook group in Arvada, you have probably noticed that your neighbors are posting about vehicle trespasses and stolen cars. In a review of a public crime database, we were able to take a look at the actual numbers. Between April 1st and July 15th of this year, there have been 128 stolen vehicles reported to the Arvada Police Department. This marks a 62% percent increase over the same time-period last year.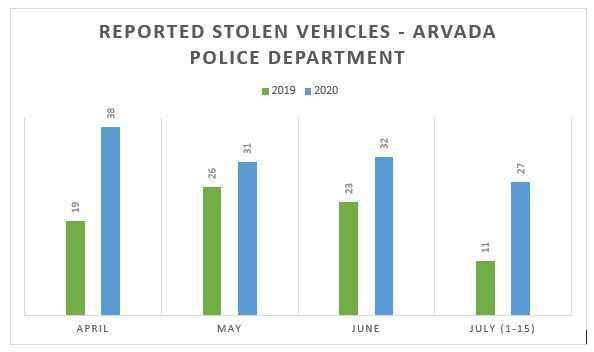 And if you think the trend is slowing, look at the numbers for the first 15-days of July. There were 27 reported stolen vehicles in Arvada, almost two per day. According to the National Highway Traffic Safety Administration (https://www.nhtsa.gov/road-safety/vehicle-theft-prevention), there are over 777,000 stolen vehicles each year. In addition, for the most recent results (2017) posted on the NHTSA website, the State of Colorado ranks 7th in the United States for the "Most Vehicles Stolen".
The top 10 stolen vehicles in calendar year 2017:
Honda Civic
Honda Accord
Chevrolet Silverado
Toyota Camry
Ford F150
Nissan Altima
Toyota Corolla
Ford F250
Ford Ecoline
Honda CR-V
Tips to avoid being a victim of vehicle theft:
Do not leave your keys in or on your vehicle
Lock your car doors and roll up your windows
Do not leave valuables in your vehicle
If you have been the victim of crime, please know the City of Arvada offers several reporting options, including online crime reporting. For more details about online reporting- click here
Sources: