On November 4th, the Colorado Department of Public Health and Environment (CDPHE), notified Jefferson County Public Health (JCPH) that they would be moving Jefferson County to Level Orange. Effective at 5:00PM on Monday, November 9th.
Details on how the Level Orange designation is impacting organization & facilities here in Arvada.
Apex Park and Recreation District
As of this morning, Apex has updated their requirements as listed below. We reached out to Apex in reference to league sports and teams playing against each other. Apex staff advised, "..we will not be holding any leagues. If you want to sue the field and can follow the 10 people limit, you are welcome to".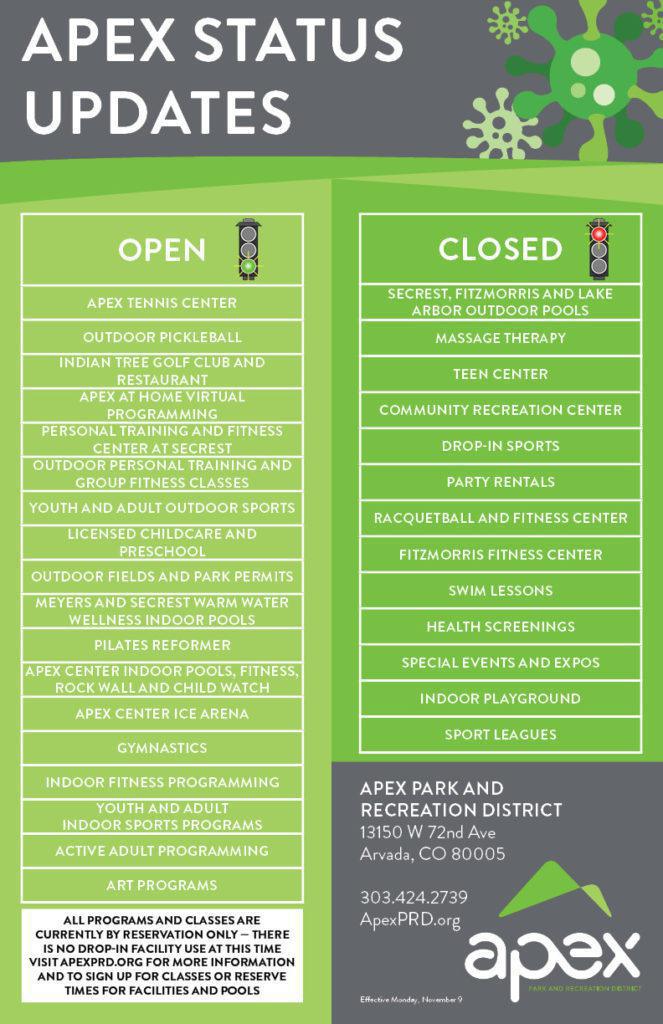 You can find updated information about Apex COVID Info here
---
City of Arvada
The City site advises they are urging residents and business to following the mandates set by the State of Colorado and the only specific closure listed was for in-person services at the Arvada Municipal Court. These services are all closed until at least November 27, 2020.
---
Jeffco Public Schools
Today, the Jeffco Public Schools Board of Education had a study session with district leadership about the any future modifications to the learning models currently in place. There was no decision made during this study session but a press release this evening indicated there is likely to be a decision announced by end of day tomorrow, November 12th.
The school district did explain that they have had to close multiple facilities for 24-48 hour periods in order to disinfect areas. In addition, there are currently 14 schools in the district which are in full remote learning mode because of "multiple positive cases".
We asked for a clarification on team sports and allowing schools to continue to compete against each other based on Jefferson County moving to Level Orange. The district provided the following response 'This level change does not affect football, which is the only athletic activity we have going right now - they will continue to play. There are no spectators allowed however; we haven't had any spectators since Oct. 29."
For more details and to view the Jeffco Schools COVID 19 Dashboard, click here
20-36 COVID-19 Dial.110220